Pedal to work, meet friends for coffee, or build up fitness on the bike path. The Alight fits right into a fun, heathy lifestyle. Casual Comfort An upright riding position and flat handlebars make commuting or a casual spin comfortable without compromising efficiency. Fun Fitness The lightweight, balanced geometry of the ALUXX-Grade Aluminum frame provides an energizing combination of speed and stability. Stylish Versatility Equipped with integrated mounts for racks, fenders, or panniers, this bike blends urban style and road bike agility.
Ordinary trips around town are more stylish and fun with the Flourish.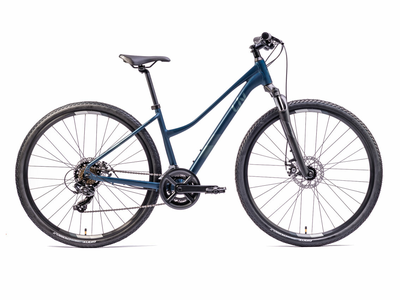 MAIN STREET, SIDE STREETS OR FOREST TRAILS. YOUR CHOICES ARE LIMITLESS WITH THE VERSATILE ROVE. KEY PERFORMANCE FACTORS Dirt-Road Ready A suspension fork offers more comfort and control when you leave the pavement for gravel and trails. Stability and Control Responsive, reliable disc brakes help you keep your speed in check, even in wet weather. Useful Integrated mounts let you attach a rear cargo rack, and the low standover height makes getting on and off less a hassle when you're running errands by bike.